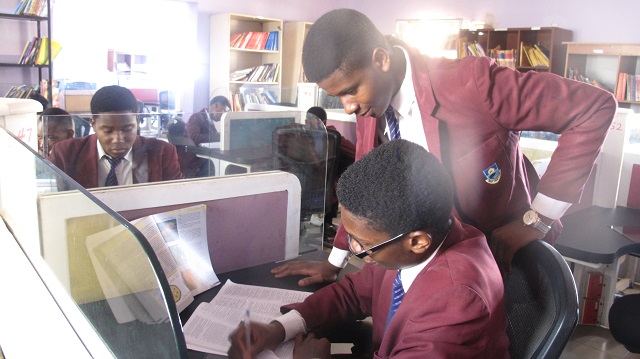 Our Rules/Regulations and Disciplinary Policies
One of the things that places man far above other creatures is his recognition and conception of rules and regulations that, when violated, attract disciplinary measures. This has for ages controlled man's psychology; hence he is constantly aware of the surrounding he finds himself. His ability to make the best of whatever he pursues is largely dependent on his adherence to the rules and regulations of the environment he lives. It is in view of this line of reasoning that we constituted rules and regulations that restrain pupils and students from appearing unencumbered, unfettered, and unregulated. We therefore came together and enacted the following:
Section A: School Uniforms/Dress Code
1. That to ensure uniqueness in dressing, School uniforms shall be bought from the School at the point of getting admission or on extra demand.
2. That the School footwear shall be black shoe with white or black socks.
3. That the uniform shall be navy blue trousers/skirts, white shirt/blouse with necktie and maroon blazers for secondary school boys and girls respectively. While in the Nursery/Primary School, the uniform shall be navy blue trousers and sky blue shirt with necktie for boys and, navy blue pinafore and white blouse with necktie for girls.
Section B: Punctuality/Visitation
1. Morning Assemblies start from 7:30am and are compulsory for all pupils/students.
2. That lateness to school is highly prohibited; thus parents/guardians should get their wards ready to delaying the School bus.
3. That parents/guardians who bring their wards to school should do that on or before 7:30am to avoid lockout.
4. On normal days, school closes by 2:30pm for the Nursery, 3:30pm for the Primary and 4:30pm for the Secondary on Mondays to Thursdays. While on Fridays, the school closes by 2:00pm for the Nursery, 3:00pm for the Primary and 4:00pm for the Secondary.
5. That parents/guardians shall not enter the School premises to see their wards or teachers without observing the laid-down protocol: registering one's presence with the receptionist, carefully stating the purpose of the visit and getting an approval of a principal officer.
6. That on no account should a parent/guardian enter a class to speak or pick his/her ward. Where necessary, with the Management authorization, the class teacher shall all the parent/guardian.
7. That except on officially authorised Visiting Days- First Sunday of every month, no parent/guardian is permitted to give food or provisions to his/her wards.
8. That parents/visitors shall park at the designated space shown by the security officers on duty.
Section C: Personal Conduct
9. That application of body scarification or tattoo is not allowed.
10. That sagging and pencilling of trousers, attachment of female hair, weave-on dangling beads and earrings, and necklaces are highly prohibited and punishable.
11. That fighting is not allowed in and outside the school premises; and violation to this rule shall attract severe punishment.
12. That shabbily dressing or unkempt look shall attract punishment.
13. That stealing in or outside the school shall, as a matter of necessity, attract expulsion.
14. That any behaviour of notoriety or unholy union between or among students shall not only duly be sanctioned but are liable to expulsion.
15. That any child that damages the School property shall repair or replace it.
16. That absent from school without cogent reason shall attract punishment.
17. That loitering around during the class hours is prohibited; and any student caught doing so shall be subjected to punishment such as washing the school toilets or any other punishment deems fit by the management or a principal officer.
18. That anybody injury inflicted on another due to bullying or rough play shall attract punishment, and the parent/guardian of the offender shall take financial responsibility of the victim's treatment.
19. That any child who deliberately declines from copying notes or doing assignments shall be punished, and if the behaviour persists, the parent/guardian of the said child shall be invited over the matter.
20. That any behaviour considers illicit or misdemeanour by the school Management which is not stipulated in this students' code of conduct, shall attract punishment also.
Section D: Use of Gadgets in the School/Hostels
1. That use of mobile phones is highly prohibited; where a student is found in possession of same, it shall be seized, and appropriate punishment shall follow.
Section E: School Bus Services
1. That any child whose parents/guardians are not disposed to pick him/her shall access school bus service at the cost of N500.00. The rate is subject to review.
We are quick to remind you that the Rules/Regulations and Disciplinary Policies stated above are by no means exhausted; hence additional ones may also be encrypted and called to be adhered to anytime the need for that arises.